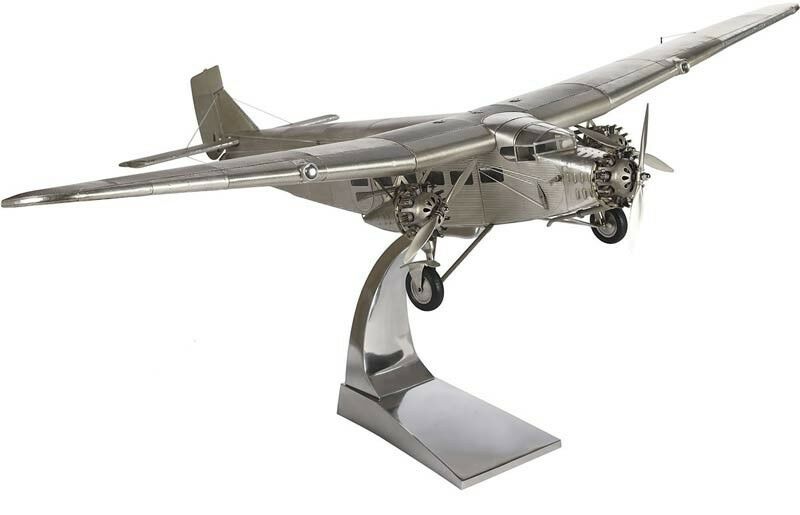 An adventurer's aircraft.
The Ford Trimotor or as it was known by its popular name, the "Tin Goose," was a successful 1920s airliner that was operated by many counties throughout Europe as well as in Africa, Asia, Australia, South America and the United States. The Ford Trimotor was of all-metal construction of three-layered "Alclad" aluminium sheeting.
The sheeting core metal was duralumin which had coatings of pure aluminium on either side, making it highly resistant to corrosion, even at the edges and where it was riveted.5 This process created a material that was very durable and long lasting.   The airplane used simple systems that were easier to maintain and gave it a reputation for ruggedness. The flight control cables were routed outside of the fuselage as was common at the time and engine gauges were mounted outside on the engine cowling to be viewed by the pilot from the cockpit.
There were several notable flights for the Ford Trimotor. A Ford 4-AT Trimotor, named Floyd Bennett, flew on an expedition over the South Pole, led by Richard E. Byrd who was accompanied by three other men. The round-trip flight took approximately 19 hours. Another Ford 4-AT Trimotor, serial number 10 built in 1927, made many notable flights by Charles Lindbergh and Amelia Earhart.
Aluminium, brass and balsa wood
| | |
| --- | --- |
| Colour | Silver polished |
| Width (cm) | 102 |
| Length (cm) | 67 |
| Height (cm) | 20 |
The Ford Trimotor can be placed on any smooth surface it also comes with a stand which it can rest on. 
A light cloth can be used to clean the surface but do not use excessive force on the moveable parts.
All deliveries are sent by tracked post and courier. For UK deliveries please allow 3 - 5 working days from clearance of funds. Please note delivery will require a signature from an over 18 – we are unable to leave a package (even in a 'safe place') without a signature.
Delivery charges are calculated by destination and weight.
For international deliveries please contact info@downtondistillery.com to discuss your requirements.
We do hope that you are happy with your purchase. However, should you feel it necessary to return an item because it is damaged we aim to make the return process as simple as possible.
We must be notified of damaged goods within 2 days of delivery. We will refund you using the method of payment used to make the purchase.
Goods must be returned unopened, sealed and in the original packaging. Downton Distillery Ltd will refund accepted returns within 30 days of you notifying us about the return.
The postage of the return is the responsibility of the purchaser.
Liability for loss or damage during transit of goods being returned is the responsibility of the purchaser.