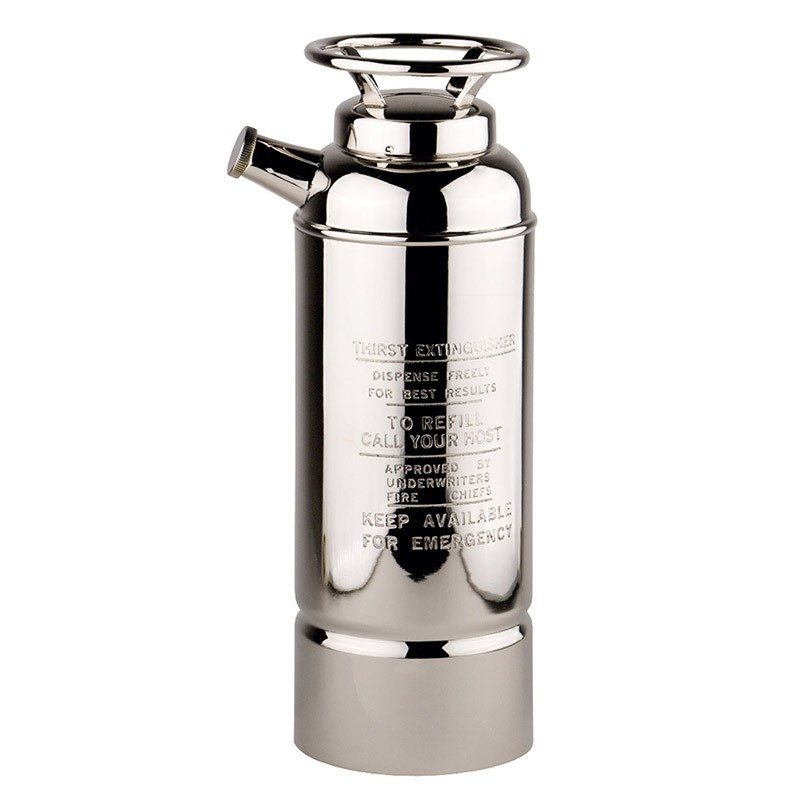 This cocktail shaker, the Fire Extinguisher is a replica of an original shaker made around 1920. These shakers were made to throw Police off the scent during prohibition in US as they were less obvious than the standard cocktail shaker.  
Made from solid brass these shakers are silver plated inside with a bright nickel chrome finish on the outside. Ornately carved inscription and the fire extinguisher detail will make this a talking point while enjoying your Negroni.
Solid brass with silver and nickel plating
Dimensions: 9cm x 25cm (height)
Holds: 800ml and Ice
This is perfect for everyday use and with the minimum of care it can retain its wonderful finish.
It should be NEVER be washed in a dishwasher the chemicals in the detergent will react with the Chrome and ruin the finish.
We recommend washing by hand in warm soapy water and dried with a soft cloth.
When drying, keep the direction of the cloth in a straight up and down motion, never in circles.
All deliveries are sent by tracked post and courier. For UK deliveries please allow 3 - 5 working days from clearance of funds. Please note delivery will require a signature from an over 18 – we are unable to leave a package (even in a 'safe place') without a signature.
Delivery charges are calculated by destination and weight.
For international deliveries please contact info@downtondistillery.com to discuss your requirements.
We do hope that you are happy with your purchase. However, should you feel it necessary to return an item because it is damaged we aim to make the return process as simple as possible.
We must be notified of damaged goods within 2 days of delivery. We will refund you using the method of payment used to make the purchase.
Goods must be returned unopened, sealed and in the original packaging. Downton Distillery Ltd will refund accepted returns within 30 days of you notifying us about the return.
The postage of the return is the responsibility of the purchaser.
Liability for loss or damage during transit of goods being returned is the responsibility of the purchaser.