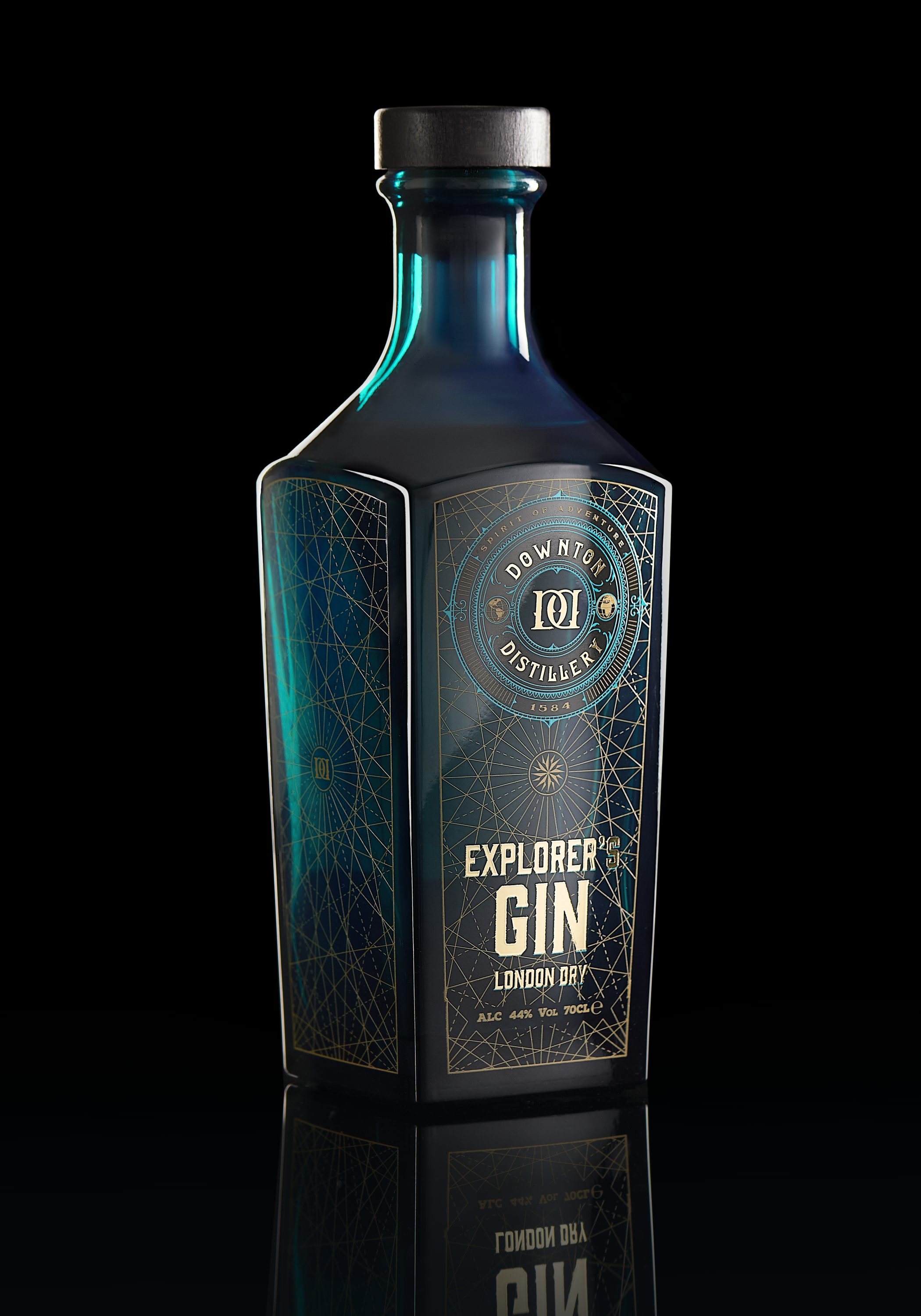 Explorer's Gin pays tribute to the explorers of the 'Golden Era', who navigated uncharted waters and to today's explorers in all fields who continue to push the boundaries. 
Explorer's Gin is our first released gin, capturing the 'Spirit of Adventure.'
Western Red Cedar provides the backbone to Explorer's Gin which results in a gin of distinction.
We believe our bottles are for 'life' and should not be thrown away once used. We therefore created our refill pouches that allow you to re-use your bottle.
44% ABV     700ml     Contemporary London Dry 

Handmade in Downton, Wiltshire

COLLECT AT REGENT TAILORING

We are pleased to inform you that you can collect your bottle from 'Regent Tailoring' on New Street Salisbury.
This option is shown at checkout.

Please show Regent your invoice.
Otherwise please select normal shipping rates for your bottles.
PERSONAL MESSAGE
If you would like to add a message with your order please add it to the 'special instructions' in your shopping cart.
SCENTS OF ADVENTURE
Nose: Citrus and floral fragrances with warming undertones of pepper with red cedar providing the backbone.
Palate: Juniper provides the initial notes, but this gives way to the bright fresh citrus which rolls on your tongue. Verbena provides a mellow creaminess, with the peppers providing the warmth at the back of the mouth. Western red cedar brings back those memories of being in a pine wood in the summer. As the szechuan pepper oil oxidises on your tongue it causes the mouth to start cool providing the subtle mint note. This then enhance the tail notes of fennel seed and liquorice providing the final flourish that lingers in the mouth.
Finish: Close your eyes and let your palate explore the subtle flavours, as Explorer's Gin enriches your senses. Being a London dry it will leave you wanting more.
THE INSPIRATION
The inspiration for our gin comes from the 'Golden Age of Exploration' during which European ships travelled around the world discovering both new continents and trading routes.
HOW TO DRINK IT
'Neat or with tonic, it's yours to explore.'
HOW TO GARNISH
Red grapefruit peel or orange. We freeze ours for this occasion.
BEST TONIC
Indian tonic water
FAMOUS EXPLORER'S QUOTE
"Fear not to touch the best."
Sir Walter Raleigh, on a window pane to Queen Elizabeth I
HOW IS EXPLORER'S MADE?
Explorer's Gin is a handmade, small batch Premium London Dry Gin created using the one-shot method. We macerate our fifteen botanicals, then vapour infuse our fresh botanicals to create a spirit of distinction.
Being a London dry gin means nothing else is added to Explorer's Gin post distillation except our spring water which filters down from the New Forest and the surrounding Chalk Downs.
WHAT TYPE OF DISTILLATION DO YOU USE?
Both direct and vapour infusion using a 150 litre alembic still.
HOW MANY BOTTLES TO A BATCH?
100 Bottles 
WHO SIGNS THE BOTTLES?
Hugh will normally sign them if he is working alone. If others are helping him with the bottle run - they will be asked to sign the bottles.
Explorer's gin makes a wonderful gin and tonic. For the more daring drinker who likes the little extra it makes a great Southside or Gin Sour.

Fifteen botanicals are used in the creation of Explorer's gin including juniper, coriander seed, fresh citrus peel, lemon verbena, fennel seed, pink pepper, cedar and timur berries. The gin is lactose, vegan and gluten free.

Explorer's Gin will cloud when you add both ice and tonic water.
Alcohol naturally expands and contracts with temperature and this in turn impacts oils that are held in suspension within the gin. It is these oils which give 'Explorer's Gin' it's unique characteristics. Chill filtration is a process where the oils are taken out; we choose not to chill filtrate this means that it keeps a fuller flavour and aroma. Enjoy.
Please be aware due to Covid-19 Second Class is taking longer to deliver.
Royal Mail increased their pricing 01st January 2021.
Delivery charges are calculated by destination and weight. The Explorer's Gin weighs 1.63kg when packed.
All deliveries are sent by tracked post and courier.
For UK deliveries please allow 3 - 5 working days from clearance of funds.
Please note delivery will require a signature from an over 18 – we are unable to leave a package (even in a 'safe place') without a signature.
We offer a collection option from Regent Tailoring in Salisbury, which will save you postage. This is shown when selecting your postage. Please show them your invoice to collect your bottle.
For international deliveries please contact info@downtondistillery.com to discuss your requirements.
We do hope that you are happy with your purchase. However, should you feel it necessary to return an item because it is damaged we aim to make the return process as simple as possible.
We must be notified of damaged goods within 2 days of delivery. We will refund you using the method of payment used to make the purchase.
Goods must be returned unopened, sealed and in the original packaging. Downton Distillery Ltd will refund accepted returns within 30 days of you notifying us about the return.
The postage of the return is the responsibility of the purchaser.
Liability for loss or damage during transit of goods being returned is the responsibility of the purchaser.