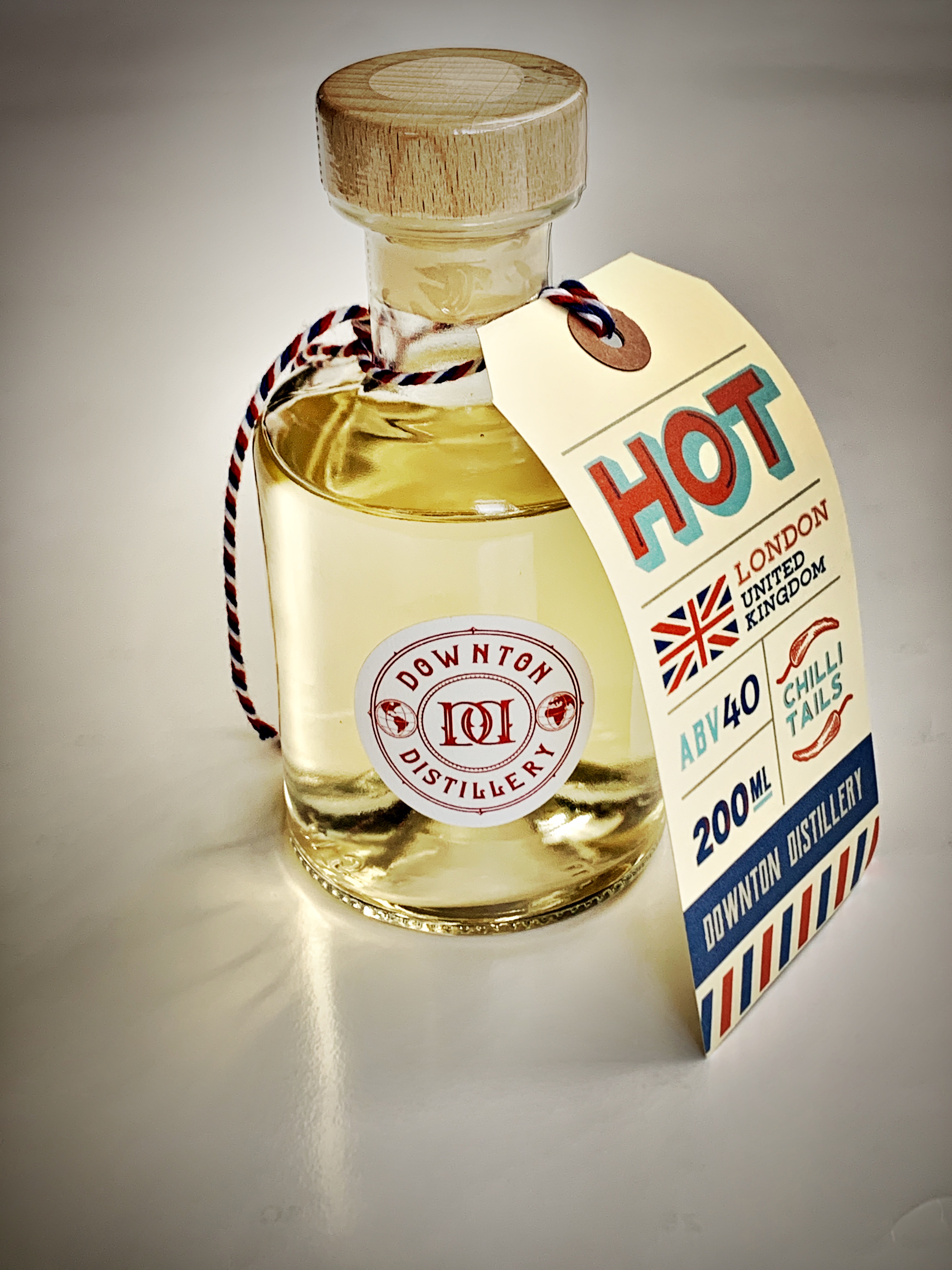 'Chilli Tails' Gin uses the tail end of the distillation process where the earthy and heavier botanicals start to emerge. These flavour profiles are then infused these with chilli and ginger to create a warming spirit. The flavour is subtle and light, with the heat lightly tickling the back of your throat before the warming sensation spreads across the upper body.
The bottle is small, so it does not take up valuable shelf space but it packs a lovely punch. If you love a 'Bloody Mary' then this is the ideal spirit for you! This was in hot demand at the 'Great Dorset Chilli Festival' where it was drunk as a shot with a chaser of gazpacho - our version of a deconstructed 'Bloody Mary.'
At Downton we pride ourselves in navigating new waters and pushing boundaries in the 'Spirit of Adventure.'
By using these tails we now have zero waste coming from the stills.
40% ABV     200ml     Infused Gin 

Handmade in Downton, Wiltshire
'Chilli Tails' is a handmade, small batch infused gin created using the one-shot method, but with the tails of the main distillation. This means we have zero waste within our distillation process and all the alcohol is being used. 
The tails are reinfused ginger & chilli to create a spirit of distinction.
Once the flavours have been infused, we add our spring water, which filters down from the New Forest and the surrounding Downs.
SCENTS OF ADVENTURE
Nose: Dusty and earthy tones from angelica and orris root.
Palate: Subtle and light, heat quickly appears, warming the back of the mouth with a light touch of ginger.
Finish: Warming sensation, moorish and making you want more.
THE INSPIRATION
We wanted to create something fun and interesting for the Great Dorset Chilli festival. We also wanted to ensure that we had no waste from our distillation process and that every part is used.
HOW TO DRINK IT
As a shot with a chaser of gazpacho soup.
HOW TO GARNISH
Mango works well with chilli & ginger.
Chilli Tails make an excellent 'Red Snapper.' This using gin instead of vodka for a Bloody Mary.
Or our Chili Martini Cocktail Recipe
1 Serrano or Thai chilli (or adjust amount to your heat preference)
15ml Simple syrup
45ml Chilli Tails
60ml Mango, nectarine, or pineapple juice
All deliveries are sent by tracked post and courier. For UK deliveries please allow 3 - 5 working days from clearance of funds. Please note delivery will require a signature from an over 18 – we are unable to leave a package (even in a 'safe place') without a signature.
Delivery charges are calculated by destination and weight.
For international deliveries please contact info@downtondistillery.com to discuss your requirements.
We do hope that you are happy with your purchase. However, should you feel it necessary to return an item because it is damaged we aim to make the return process as simple as possible.
We must be notified of damaged goods within 2 days of delivery. We will refund you using the method of payment used to make the purchase.
Goods must be returned unopened, sealed and in the original packaging. Downton Distillery Ltd will refund accepted returns within 30 days of you notifying us about the return.
The postage of the return is the responsibility of the purchaser.
Liability for loss or damage during transit of goods being returned is the responsibility of the purchaser.